Inventor & Artist
ANDY CAVATORTA
Project partners & Artists
AVL PIEZOCRYST, TOM HUBER & CAVATORTA'S INTERDISCIPINARY TEAM
Location
NEW YORK, USA AND GRAZ, AUSTRIA
Irvine Project: Developments
Together with Andy Cavatorta, a New York-based sculptor working with sound and robotics, the AVL Cultural Foundation began an ambitious adventure into the world of experimentation and research. Part of this experiment was an intense dialogue and exchange between the artist and AVL scientists.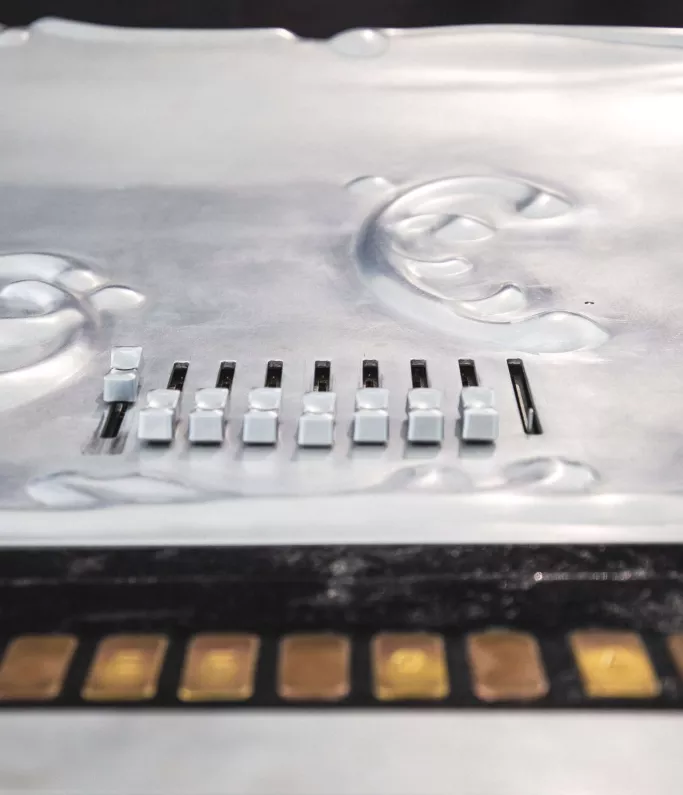 Why? Because at the heart of this project are gallium phosphate crystals:
Thirty years ago, the gallium phosphate crystal was developed by former AVL physicist, P.W. Krempl and his team. Piezocryst, a subsidiary company of AVL, is the only enterprise worldwide that produces these high-precision quartz-like crystals, which are used in high-performance sensors that require intense internal resistance capabilities. This near-perfect sensor behavior is unique in the world and is an essential component in measurement technology, particularly in aircraft turbines.
Cavatorta's vision was to create a new type of electronic musical instrument featuring at its heart the gallium phosphate crystal. Months of experimentation with his team in his Brooklyn laboratory led to various prototypes and an exploration of, as Cavatorta expresses it, "the dark forest of possibilities" that is key to any innovative process. With musician and producer Tom Huber (Novosonic), as well as his team of musicians and artists, Cavatorta developed Irvine to create a new musical language. To accompany Irvine's unique sound spectrum, a computer program developed by the technology experts at SCOOP & SPOON to add a unique visual element to the experience, in order to further the level of audience-engagement to the instrument.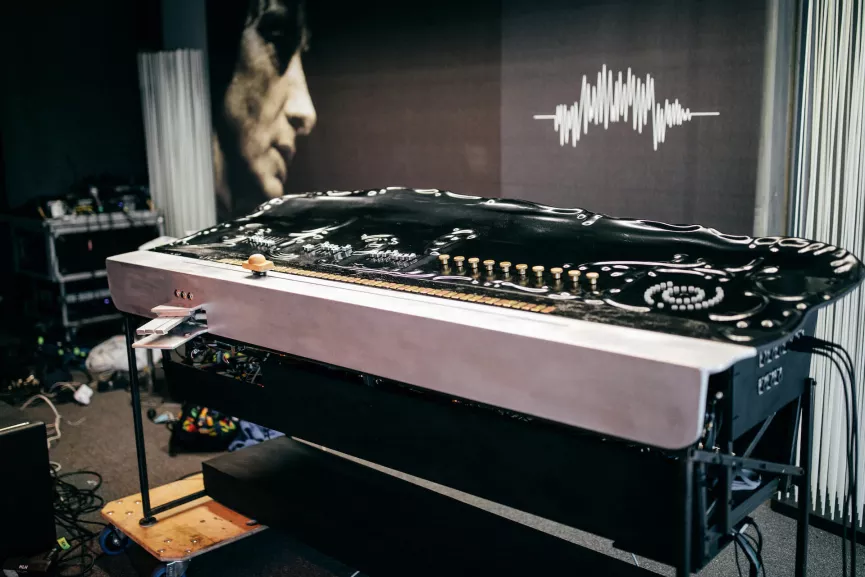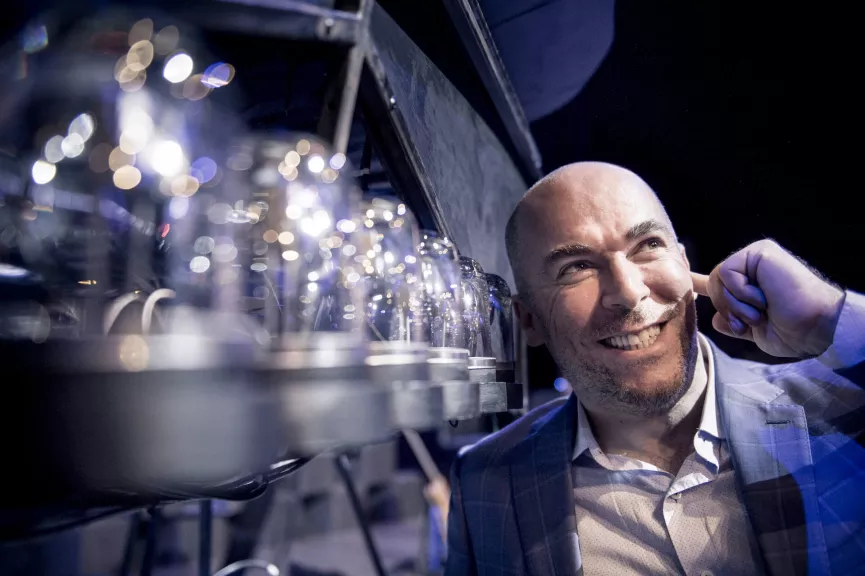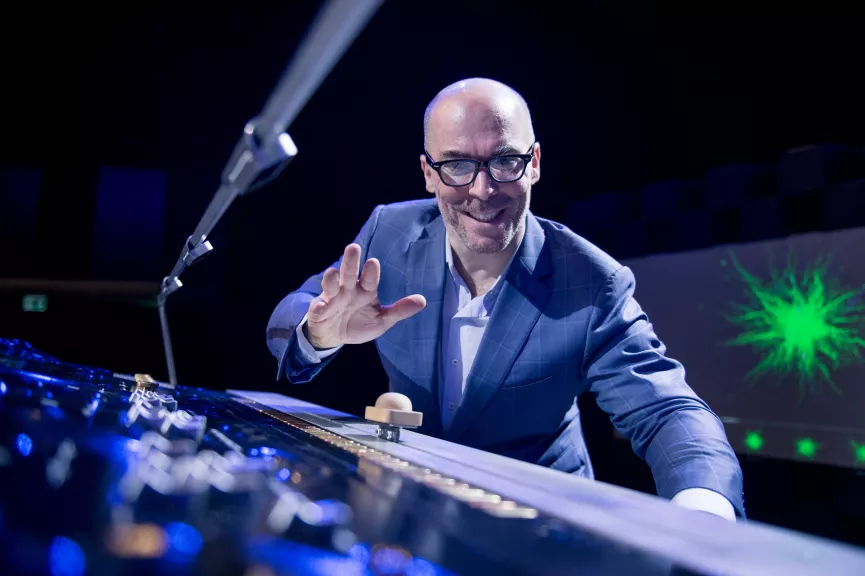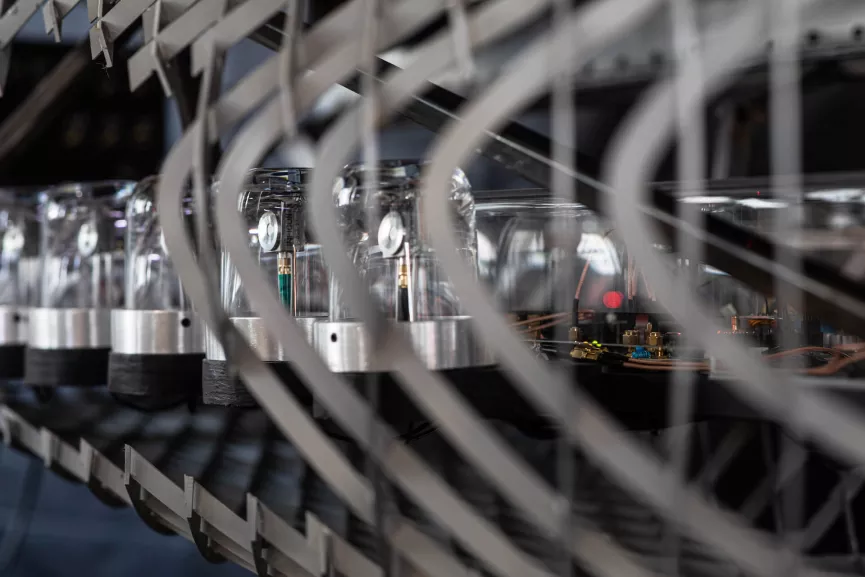 For Cavatorta, Irvine is part of a re-imagined history of electronic music. And he started the process from the question "If electronic instruments found a home in the symphony orchestra in the early 20th Century, how would they have evolved differently and what would we demand of them?"
Discovering unexplored musical dimensions and spectrums of sound, a new auditory world of creative opportunity began to open up before the artists. Irvine is intended to be played as expressively as a singer sings, with continuous and discrete expression of pitch, dynamics, and timbre. Irvine 7 – the seventh prototype of the instrument – was finally introduced to the world at its premiere in the "Crystal Sounds Lab" within the steirische herbst festival at the Helmut List Halle in October 2017.
Even if technology and scientific inventions play key role in the instrument, Irvine, however, is nothing without the musician. Putting the human center-stage allows the personality of the musician to shine. As Cavatorta explains, "It is not the instrument that makes the music, the musician does."
The Irvine project perfectly reflects the mission of the AVL Cultural Foundation: that true innovation can neither be just about art or technology, but is the result of dialogue between the two.